Home
Commercial Mold Inspector Certification
The Commercial Mold Inspection Course will get you the CCMI certification for doing mold testing & assessments in commercial properties.
This is an interactive self-paced online course that features text, audio, video, images, diagrams, and flashcards to help you learn the material. As you move through the course, you will take lesson quizzes at the end of each lesson and a final exam online at the end of the course. The online course is available on-demand so you may log in and out at your convenience!

Commercial Mold Inspection Training
Commercial Mold Inspection Lessons
Getting Started
Common Terminology
Commercial Standards
Commercial Roofs
Commercial HVAC
Apartment Complexes
Retail, Office, Other
Mold Sampling
Mold Reporting
Final Exam

Course Objectives (show/hide)
Commercial Mold Training - CCMI Commercial Mold Inspection Course Objectives
Understand the government's position on mold exposure
Define the terminology used in NAMRI mold standards
Understand the purpose and scope of NAMRI standards
Understand the limitations of a mold inspection
Identify areas of the grounds, exterior, structure, plumbing, interior, and HVAC which are to be inspected
Identify areas which are included from a mold inspection
Understand when to collect tape and swab samples
Understand standardized procedures for air sampling
How commercial roofs differ from residential roofs
Understand the different types of flat roof coverings
Learn the typical problems with flat roofs
Know what to look for on commercial roofs
Understand how to access a flat roof
Understand flat roof drainage systems
How HVAC vents can impact the roof
Understand how mold affects ventilation systems
Identify the types of commercial ventilation
Learn what happens when HVAC components fail
Identify humidification & dehumidification systems
Understand problems with outdoor air dampers
Understand what happens when air filters fail
Learn about biological pollutants in ductwork
How exhaust intake affects the indoor air pressure
Understand how mold can affect return air systems
Understand issues with cooling towers and boilers
Understand the scope of an apartment inspection
Know where mold growth is most likely to be found
Understand a Landlord/Tenant Inspection Agreement
How to price mold inspections for apartments
Understand the characteristics of retail buildings
Understand the characteristics of office buildings
Learn about other types of commercial buildings
Know where mold growth is most likely to be found
Inspecting roofs, plumbing and HVAC components
Understand potential problems with accessibility
Understand the different methods of sampling
Know what type of equipment is needed
Understand what method of sampling to use
Learn the benefits and drawbacks of sample types
Understand the concept of tape sampling
Understand the concept of swab sampling
Understand the concept of bulk sampling
Understand the concept of air sampling
Understand the safety considerations when sampling
Understand Reporting Methodologies
Understand the Pre-Inspection Agreement
Learn how to perform a professional inspection
Understand how to present a report summary
Learn how to review the report with the client
PMII Mold Training Benefits (show/hide)
PMII Online Mold Training Benefits
Quality online mold training courses
Establish a new mold business or expand your current list of services
Industry's best mold inspection and mold remediation training
recognized by insurance companies, state agencies, and national associations
Affordable online mold training
Complete courses at your own pace
Unlimited student support
Student-instructor forum for questions
Madison, SD support office open 12 hours-a-day
Online support & in-house phone support
Mold Courses / software developed and supported in-house by PMII
Get your mold business up & running
Free 1-year subscription benefits to help get you up and running

NAMRI membership
Mold Inspection Report Creator software
Free mold business website from inspectHost

Advertising templates - customize with your information
Use of certified logos for advertising
Course Approvals(show/hide)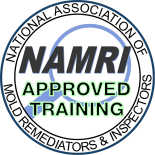 NAMRI, the National Association of Mold Remediators & Inspectors approved mold training

PMII is an affiliate of
ASHI, the American Society of Home Inspectors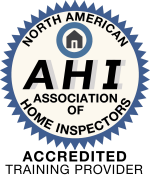 PMII is an affiliate of
AHI, the North American Association of Home Inspectors

IICRC Approval:
14 CREDIT HOURS of IICRC continuing education can be obtained by going through the mold training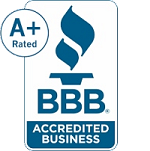 PMII is a
BBB (Better Business Bureau) A+ rated member
and is authorized to display the BBB Accreditation logo

Accepted by all major homeowner insurance companies
who require mold certification for water damage / restoration jobs

Approved by mold E&O insurance companies
- our approved mold training qualifies for exclusive coverage from E&O providers
SALE: Special Package Price Offer!
For a limited time, get this course as part of a package deal
Get all the mold certification courses together for one low price!
CRMI Residential Mold Inspector Certification
CMR Mold Remediator Certification
CCMI Commercial Mold Inspector Certification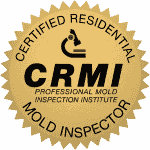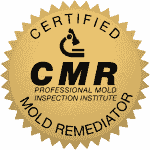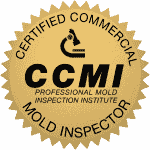 Mold Certification Course Package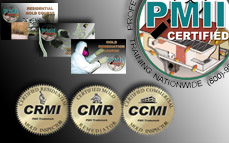 Sale Price:
$449
Click the
add to cart
button below and proceed to the checkout to get signed up. You will be emailed a username/password to login and begin.
---
Commercial Mold Inspector Certification is also available through the following offer: