Home
Mold Remediation Certification Course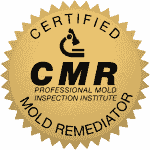 The
Certified Mold Remediator Course
will get you the CMR certification for doing mold remediation, cleanup, containment, and restoration.
This is an interactive self-paced online course that features text, audio, video, images, diagrams, and flashcards to help you learn the material. As you move through the course, you will take lesson quizzes at the end of each lesson and a final exam online at the end of the course. The online course is available on-demand so you may log in and out at your convenience!

Certified Mold Remediation Course
Mold Remediation Lessons
Fungal Ecology
Health Effects
Principles
Procedures
Limitations
Determinations
Structural Remediation
Contents Remediation
Tools and Equipment
Safety and Health
Indoor Assessments
Certification Authorities
Respiratory Protection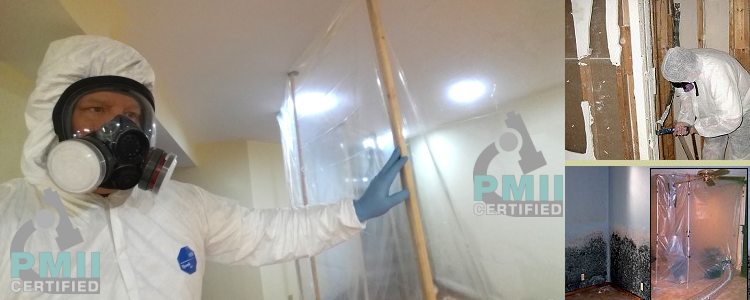 Course Objectives (show/hide)
Mold Training - CMR Mold Remediation Course Objectives
Understand the levels of contamination
Understand the types of mold growth
Understand facts about mold growth
Understand how mold affects your health
Understand the symptoms from mold contamination
Understand the risks from mold contamination
Understand that some molds may be more hazardous than others
Understand the administrative procedures of mold remediation
Understand the insurance involved in mold remediation
Understand the five general principles used in the remediation of mold-contaminated structures and materials
Understand the Limitations of mold remediation
Understand the Complexities of mold remediation
Understand the Complications of mold remediation
Understand the Conflicts involved with mold remediation
Understand the scope of the inspection
Understand the preliminary determinations
Understand what is involved in a structural remediation
Understand what is involved in a contents remediation
Understand the different tools, equipment, and materials that are needed for mold remediation
Understand the safety of mold remediation
Understand the health involved in mold remediation
Understand what an Indoor Environmental Professional is
Understand what is all involved in an Assessment
Learn about all the different Certification Authorities that are available
Understand the different types of respiratory protection that are needed for remediation projects that range from small to large
PMII Mold Training Benefits (show/hide)
PMII Online Mold Training Benefits
Quality online mold training courses
Establish a new mold business or expand your current list of services
Industry's best mold inspection and mold remediation training
recognized by insurance companies, state agencies, and national associations
Affordable online mold training
Complete courses at your own pace
Unlimited student support
Student-instructor forum for questions
Madison, SD support office open 12 hours-a-day
Online support & in-house phone support
Mold Courses / software developed and supported in-house by PMII
Get your mold business up & running
Free 1-year subscription benefits to help get you up and running

NAMRI membership
Mold Inspection Report Creator software
Free mold business website from inspectHost

Advertising templates - customize with your information
Use of certified logos for advertising
Course Approvals(show/hide)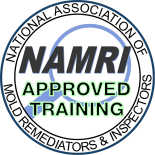 NAMRI, the National Association of Mold Remediators & Inspectors approved mold training

PMII is an affiliate of
ASHI, the American Society of Home Inspectors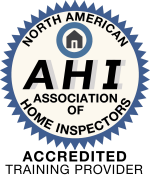 PMII is an affiliate of
AHI, the North American Association of Home Inspectors

IICRC Approval:
14 CREDIT HOURS of IICRC continuing education can be obtained by going through the mold training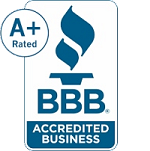 PMII is a
BBB (Better Business Bureau) A+ rated member
and is authorized to display the BBB Accreditation logo

Accepted by all major homeowner insurance companies
who require mold certification for water damage / restoration jobs

Approved by mold E&O insurance companies
- our approved mold training qualifies for exclusive coverage from E&O providers
SALE: Special Package Price Offer!
For a limited time, get this course as part of a package deal
Get all the mold certification courses together for one low price!
CRMI Residential Mold Inspector Certification
CMR Mold Remediator Certification
CCMI Commercial Mold Inspector Certification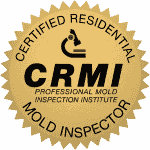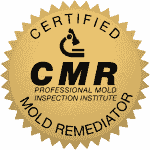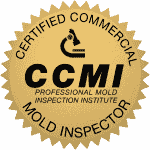 Mold Certification Course Package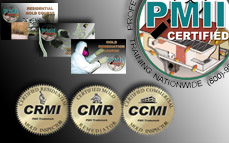 Sale Price:
$449
Click the
add to cart
button below and proceed to the checkout to get signed up. You will be emailed a username/password to login and begin.
---
Mold Remediation Certification Course is also available through the following offer: